Aktualności
Evolution in Image, Enjoyment in Efficiency
The All New Wind Top AE Series, a New level of Visual
Ostatnio zaktualizowane: Fri, 07 Jan 2011
Las Vegas - January 5 2011 - MSI (Micro-Star International), the world's leading All-in-One PC brands, will showcase the all new Wind Top AE series, equipped with the latest Intel® CoreTM Processor and hi-speed USB 3.0 transmission, at the 2011 U.S. Consumer Electronics Show (CES). Also on display at the exhibition will be the business and office oriented Wind Top AP series, along with the Wind Top AC series, which is designed specifically with the general consumer in mind. Following the launch of the world's first 3D All-in-One PC, MSI will feature more comprehensive 3D applications in All-in-One PCs, bringing the 3D to the next level.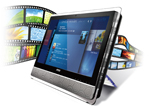 Evolving Efficiency, Vivid Graphics
Featured in the All-in-One PC and CES, the all-new Wind Top AE series comes equipped with Intel® Sandy Bridge and AMD® Brazos, both state-of-the-art platforms developed by two of the largest CPU manufacturers in 2011, which allow for exceptional visual performance in the Wind Top AE2410, AE2210, and AE2050 models

Enhanced by Intel® Clear Video HD technology and armed with the next-gen Intel® CoreTM Processor, MSI's Wind Top AE2410 and Wind Top Ae2210 offer high quality HD performance, allowing you to view even the smallest image detail while presenting the colors in their most natural hue. This phenomenal image processing technology allows users to watch HD quality videos without the need for a dedicated graphics card.

The Latest Intel® CoreTM Processor Family (codenamed Sandy Bridge) is the industry's first family of processors featuring a truly integrated CPU and GPU core that provides vastly improved performance and a more compelling visual experience.

- Turbo Boost, built into the new Core processors, allows dynamic adjustment of CPU and GPU clock speeds based on the type of command issued to achieve maximum performance and energy efficiency.
- The new Intel Core processors are built on 32nm HKMG technology with Intel's 6th generation GPU core. They provide support for HD video, 3D, mainstream games, multitasking and multimedia functionalities as well as for DX11.

The Wind Top AE2050 is equipped with the latest AMD Brazos platform that offers uncompromising video performance. Wind Top AE2050 adopts the AMD E-350 dual core processor and has a built-in AMD RadeonTM HD 6310 Discrete-Class Graphics adaptor that supports DX11. ATI Stream technology allows more fluid and convenient video playback, and AMD AVIVO™ technology renders video images in richer and more vivid detail. An all-new visual experience is possible with a limited budget and enjoying high-quality video no longer costs a small fortune.

Powered with all-new Intel and AMD platforms, the Wind Top AE series boasts outstanding image processing performance, allowing users to experience the smooth and exquisite effects made possible by powerful image processing capabilities; the new series allows users to enjoy the most realistic images that rival natural colors, putting the wonderful and distortion-free world at their fingertips.

Super-charged Transmission Speed and Efficient Living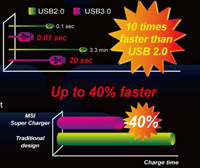 Convenience in Life Starts with Transmission Speed. Units that will be on display at the 2011 CES include all new models that come equipped with two high-speed USB 3.0 ports. USB 3.0 provides a transfer rate of 5Gbps and is approximately ten times that of USB 2.0. It is the fastest interface available on the market today. The new USB 3.0 interface allows users to enjoy faster data transfer of high-definition data; for example, a 4.8G HD movie can be transferred in just 14 seconds, which is equivalent to saving 2.4 hours in a day, making our daily life more efficient and more convenient. In addition, MSI has employed the Super Charger technology to allow devices not only to recharge with one of the USB 3.0 ports but also be able to do so even when the computer is shut down, not to mention a 40% savings in recharge time. Busy users no longer need to worry about turning on the computer to recharge their devices.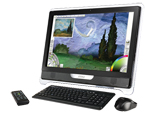 Paint, Play the Piano, The Pleasure of the Touch Screen
The all-new Wind Top AE series comes equipped with the built-in professional graphics software package ArtRage Studio Pro. Used in conjunction with MSI's sensitive multi-touch capabilities, users can draw directly on the touch screen to simulate watercolor or oil painting. Everyone can be a Picasso! Equipped with the latest Intel CoreTM processor and Intel® Clear Video HD technology, Wind Top AE Series offers colors that are even more realistic; the color quality of red, yellow and blue are as close to that of real paint as possible. In addition, the Wind Top AE Series also comes with the built-in piano software, Music Maker, which provides a simple piano keyboard to let users create music on the screen. Users can use it to play piano, compose and record, easily becoming Beethoven. The built-in YouCam 4.0 can also display a variety of interesting video effects via touch screen operations. Users can also experience diverse video capabilities by integrating it with MSN and Skype as well as uploading videos to social networking community websites such as YouTube and Facebook and easily sharing them with friends at the touch of the screen.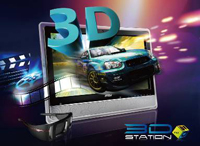 Exciting 3D Effects Gets You in Gear
More comprehensive 3D applications in All-in-One PCs will be introduced at the CES. In addition to viewing 3D movies and playing 3D games, MSI has further extended 3D applications, such as: direct display of 3D photos and 3D Webcam video. One only needs to put on a pair of 3D glasses to be able to see his or her own 3D images. Anyone can become a protagonist in a 3D movie.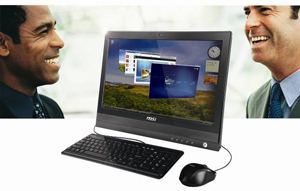 For Business and Pleasure
The latest business All-in-One PC models introduced by MSI at the CES: Wind Top AP series. Equipped with various interfaces and devices, Wind Top AP2000 is specifically designed for the office environment and is ideal for business operations and multi-tasking. A model that comes with a 20-inch single touch LCD screen (optional) is suitable for the office or other business environments. Two COM ports are also included for storefront applications so that businesses that require Point of Sale system applications, such as restaurants, five-star hotel front desk, 24-hour convenience stores and gas stations, can connect the computer with barcode readers, credit card readers and bill printers as well as other office operations. The Wind Top AC series possesses the ideal features of an All-in-One PC: high performance, low power consumption, ultra-quiet operation, user-friendly interface and comprehensive I/O interfaces for effortless wireless Internet access, providing the optimal level of convenience and space saving.

For more information on CES and the MSI products, please visit www.msi.com.